Updated
6/20/2020, 12:29:28 AM
 by
Adam Knight
A few quick tips on using Google Documents.
Add and edit text
Rename your document:
At the top of the page, click Untitled document, enter a new title, and click OK.
Add or edit text:
Just click in the page and start typing.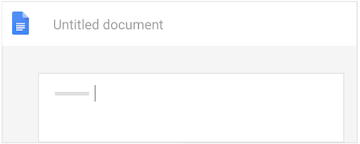 Customize your document
Depending on what you want to change, choose an option:
To customize margins, page color, and orientation, click File > Page setup.
To customize text, images, tables, and more, use the toolbar options.
Note: Some options only appear for certain types of content, such as tables or images.
Add pictures, links, tables, and more
The Insert menu lets you add different features to your document. Here are the highlights:
Image — Insert an image from your computer, the web, Drive, and more.
Table — Select the number of columns and rows to create a table.
Drawing — Create shapes, pictures, and diagrams right in your document.
Link — Add a link to another page or to a header or bookmark in the same document.
Bookmark — Add shortcuts to specific places within your document.
Table of contents — Create an auto-generated table of contents that links to each heading in your document that has a heading style applied.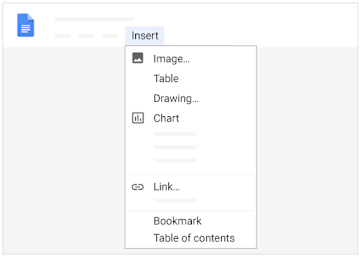 Create page columns
If you're working on an academic paper or another large document, you can organize your text in columns.
Click Format Columns.

Select the number of columns you want.

(Optional) To adjust the spacing, or add lines between columns, click Format > Columns > More options.

Click Apply.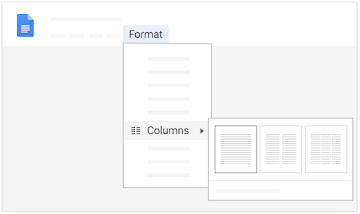 ---